Environmental Chamber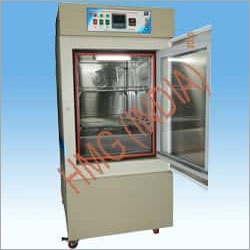 Environmental Chamber
Product Description
Our business is delivering technologically advanced environmental chamber. The primary objective of making this chamber is the increasing demand of pharmaceutical laboratories and companies to keep their medical items at a regulated humidity and temperature. This chamber is additionally known as climatic chamber in the market. The provided environmental chamber is deployed to examine the operational status of electronic components, electrical devices,
materials, industrial items and much more in varied environmental conditions.
Prime Features:
Effective locking system
Integrated mechanical temperature control system
Huge walk-in chamber
Controlled humidity
Sturdy outline
Numerous user control alternatives
Making:
The chamber is composed in a dual wall structure with GI, SS 316 or 304, and different material. In addition, the external wall is effectively composed of GI material that is epoxy power finished and coated for productivity. Amid the manufacturing stage, the gap is sealed with glass wool protection material. This chamber has a complete length, plexi door, glass window, and inner viewing glass. The leak-safe locking system is provided in our environmental chamber for the door that is entirely optional to the customers. Our chamber is lit with an in-built bulb.
Cooling-CFC Safe Refrigeration
The compressor in our chamber is introduced in a hermetically sealed manner. This compressor is additionally ISI marked. It is available with air chilled condensing system that has fan blade, electrical accessories, motor, and components. The integratoed compressor is attached on heavy bottom frame of the unit.
Dampness
It is made with injection and steam into the working chamber.
Heating
This is obtained through tempered steel and cylindrical heater that has fins.
Temperature Regulation
For temperature control, we have integrated automated temperature indicator or controlled with wet and dry bulb principle.
Optional Features:
GMP models in tempered steel structure
Elevated temperature of over 700C
Strip Chart Recorder is provided for wet and dry Bulb
On demand, our environmental chamber can be composed in different temperature and size range
Micro regulator based PID with Printer Interface and compatibility alongside EPSON or WIPRO The controller is compatible with RS-232 C and RS-485 PC Interface for numerous networking.
Profile Controller is offered for cyclic usages
Contact our company to understand about the details for cydic chamber, stability chamber or programmable chamber. This feature is optional to the customers. Moreover, the specifications of some models can alter with time because of our continual R & D.
| | | |
| --- | --- | --- |
| Model | Working Size | Cap. Cft. Ltrs. |
| HCl 3 | a) 40 X 40 X 57 cms | ( 3 Cft / 90 Ltrs ) |
| HCl 6 | b) 50 X 50 X 70 cms | ( 6 Cft / 175 Ltrs ) |
| HCl 10 | c) 57 X 57 X 88 cms | ( 10 Cft / 285 Ltrs ) |
| HCl 12 | d) 60 X 60 X 95 cms | ( 12 Cft / 90 Ltrs ) |
| HCl 16 | e) 70 X 70 X 90 cms | ( 16 Cft / 450 Ltrs ) |
| | | |
Humidity Oven ( Above Ambient test )

Environment Chamber ( * with cooling facility)

Temp. Range Ambient + 50C to 600C

100C to 600C

Humidity Range Ambient 90-95% RH

40 to 95% RH

Accuracy - Temp + 10C or better
RH + 5% or better

+ 10C or better
+ 3% or better
Contact Us
HMG HOUSE, Survey No. 244/B-3, Plot No.2, Orchid Industrial Park, Next to Guardwel industries Lane, Behind Glow Pharma, Chincpada, Village: Gokhivare, Vasai (East), Vasai, Maharashtra, 401208, India
Phone :+918045804755