Fume Chamber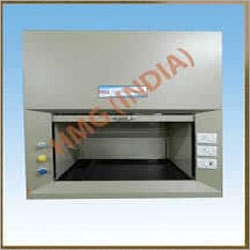 Fume Chamber
Product Description
Our business brings fume chamber for the users to resolve various ventilation issues. This chamber has instruments such as base cabinets, plumbing options, ducts, fume hoods, and electrical service. These integrated instruments offer an effective and safer fume hood for various laboratories. However, the provided fume chamber is greatly beneficial in safeguarding the workers from noxious contents when presented to dangerous gases. Attributable to this feature, our chamber makes an imperative unit to be utilized in every laboratory. The exceptional outline is done following immense analysis and research with the experts' skill of sound aerodynamic and engineering principles that offers a seamless airflow inside the fume hood to expel the fumes at openings.

Construction : Dual skin sandwich construction
Upper unit : This is made with caliber CRCA sheet following epoxy powder covered electro statically and internal chamber lined is safe from acid while different linings are made from FRP or PPGL. However, Bisphenol or S. Steel are provided as optional accessories for our chamber.
Sash : It is composed of polycarbonate transparent sheet of 4.5 or 4 thick or toughened glass or laminated safety glass that is optional for this instance. This sash is framed for simple vertical motion by covered counter weights, which are run through steel wire cable or rope. In addition, inside rear's baffle has been outlined suitably in according with every application.
Services : The number of gas or air or LPG or vacuum is offered for remote control systems.

Extra service and lines can be availed with additional expense.
Illumination: This fume chamber is offered alongside vapor-safe attachment of fluorescent tube light.
Electric Points: Mechanical socket of over 15 Amp is delivered in side chamber alongside switch that is offered on front face.
Design: The outline of our chamber is provide with underbench storing facility for LP G cylinder and chemical storage.
Exhaust System: It comprises of ducting and centrifugal blower. The blower is made with PPGL or PP alongside FRP lining and dynamically adjusted impeller of polypropylene straightforwardly powered by 3 or 1, CROMPTION or any different standard make the electrical engine. This blower of ideal CFM capacity that is suggested to meet to the fume hood size . A 15 ft elongated ducting is added as standard supplies.

Product Details:
| | |
| --- | --- |
| Brand | HMG INDIA |
| Automation Type | Automatic |
| Color | Silver |
| Shape | Rectangular |
Contact Us
HMG HOUSE, Survey No. 244/B-3, Plot No.2, Orchid Industrial Park, Next to Guardwel industries Lane, Behind Glow Pharma, Chincpada, Village: Gokhivare, Vasai (East), Vasai, Maharashtra, 401208, India
Phone :+918045804755