Walk In Chamber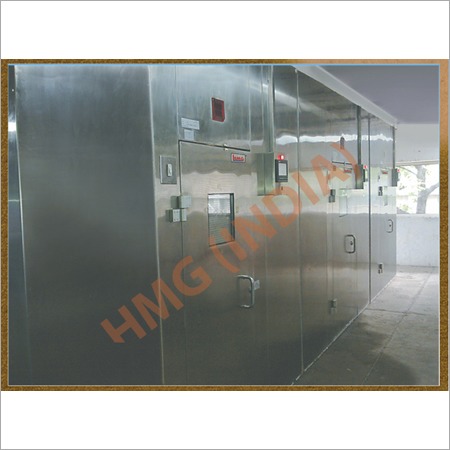 Walk In Chamber
Product Description
The tempered steel structure of our walk in chamber is it greatly tolerant to various operative environments. It is configured in numerous models. Besides, this chamber can be designed in personalized specifications for difficult application demands. Utilizing this chamber, the customers can test and store various under coveted temperature.

Features:

Chemical and fire resistant
Ideal for all big and small labs
Incorporated automated temperature indicator and controller
Audio temperature Alert, optional
Permits trouble free functioning

Our business delivers factory ready, simple to assemble panels alongside Polyurethane foam protection for walk in chambers, cold rooms, insulated vans and incubators.

Models

Varied models are offered to suit the requirements
Walk-in-Cooler for sub zero and below ambient temperature requirement
Walk-in incubator for over ambient temperature demand
Stability chamber and Walk-in-humidity for humidity and temperature control

Wide Ranges

Different low weight panel sizes are obtainable to meet some applications.
Thickness: 150, 100, 60, 120, and 80 mm
Height: 4.6, 2.25, 1.8, and 2.8 meters
Width: 1000, 600, and 900 mm

Mobility

With modular outline and low weight assembly, a customer can make room of any size.
Relocation, enlargement and dismantling is additional fast and simple.

Metal Finish :

24 G already painted GI or CRCA metal sheet and powder coat finish.

Resistance:

Inferable to the resistance from chemical agents, the integrated panels are not smitten by its response.
The panels are effectively safe to water and fire.

Maintenance safe:

The sturdy finished and outlined walk in chamber demands minimum or negligible handling.

Least Heat Transfer:

To make sure there is tight attachment between panels, its groove edges and tongue are shaped to close tolerance. Consequently, the condensation does not produced on the form while heat exchange is least.

Quality Accessories :

We source best equipment for our panels.
We offer discretionary accessories on demand, comprising audio temperature alarm, internal storage racks, strip curtains, automated temperature indicator or controller, etc.

Humidity and Temperature Range:

Temperature Range: As demanded (+50 C, 0 C, -10 C, -20 C, and Above)
Humidity Range: 40-95% RH (elective)

Data Recording Facilities
We have provided strip chart recorder for ceaseless recording as well as circular recorder for weekly or daily recording. It possesses a Printer Interface that is congenial to 80 DOT Matrix printer of WIPRO or EPSON. This additionally has PC Interface via RS 232 or RS 485- C for different controller networking. It has window based programming software for making reports in tabular or graphical form. Our business provides the validation protocols for PQ, DQ and IQ documentation.

Product Details:

| | |
| --- | --- |
| Metal Finish | 24 G Prepainted CRCA / GI Powder coat |
| Width | 600/900/1000 mm |
| Insulation | PUF |
| Thickness | 60/80/100/120/150 mm |
| Brand | HMG India |
| Height | 1.8/2.25/2.8/4.6 Meters |
Contact Us
HMG HOUSE, Survey No. 244/B-3, Plot No.2, Orchid Industrial Park, Next to Guardwel industries Lane, Behind Glow Pharma, Chincpada, Village: Gokhivare, Vasai (East), Vasai, Maharashtra, 401208, India
Phone :+918045804755