Biological Safety Cabinets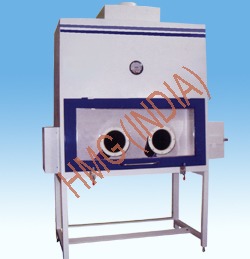 Biological Safety Cabinets
Product Description
The company for long been providing Clean room equipment and allied equipment to buyers all across the globe. Manufactured in-house and assembled with supreme quality components, the equipment is used in applications, like laboratories, packaging rooms, environmental test facilities, automotive manufacturing, equipment enclosures, storage rooms, metrology labs, powder coating enclosures, medical controlled environments, research facilities, aerospace applications, etc. The clean rooms in labs and industries are used to remove particles and harmful contaminants from the floors.
Key Points:
Developed from high grade metal alloys
Imbibed with quality electrical wires and components
Simple to operate and trouble free functioning
Energy efficient and requires less maintenance
Ultra Clean Hepa And Ulpa Filters
High Efficiency Particulate Air (HEPA) filters have the efficiency to remove 99.97% of particles greater than 0.3 micron in diameter from air or gas.
Ultra Low Penetration Air (ULPA) filters have the efficiency to remove 99.997% of particles down to 0.12 micron.
Micro Clean Range of Pre-Filters
Tested as per British Standard 2831 using Test Dust No. 11., these pre-filters can remove 95% efficiently the particles down to 3, 5 and 10 microns in diameter from air or gas streams.
Powder Dispensing Booth / Vertical Reverse Flow
This is used for powder mixing, weighing & dispensing. To pick up the aerosolysed particles from the source without dispersing it into the area, reverse flow scavenging pre-filter at the work level is used.
Clean Air Pressure Modules
HEPA filter modules of different range, from 150 to 2000 CFM, are used as duct connected pressurizing units, clean air feed systems as well as for supply of cooling air to hot air sterilizers.
Biological Safety Cabinets (Bio-Hood)
Developed complying the British Standard 5726-for Class II Biological Safety / Cabinets, these cabinets find application in research labs for sterility testing & recombinant DNA research, isolation & identification of plant or human pathogens, work in virology, tissue culture, etc. This cabinet also provide protection to operators against low to moderate risk work environment for the procedure. It is kept under negative pressure, with small quantity of recirculated air exhausted through a High Efficiency Particulate Air filter.
Pass Box
Pass Boxes designed to eradicate pollutants from the air, comes with mechanically interlocked glass doors & UV light.
The continuous R & D might result in change in model and specifications.
Trade Information
Australia South America Eastern Europe Western Europe Middle East Central America Asia North America Africa