Muffle Furnace High Temp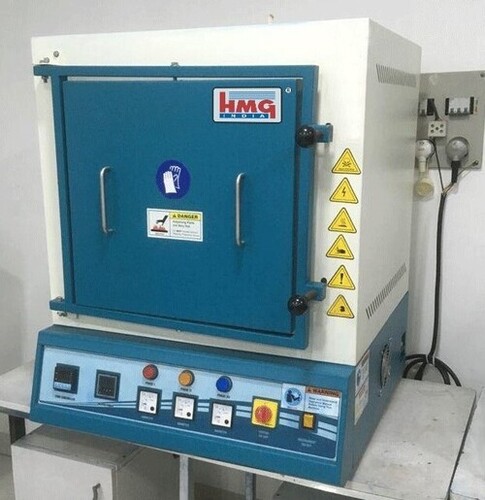 Muffle Furnace High Temp
Product Description
Our business has the capability to make muffle furnace that is useful in various laboratories for fulfilling the heating demands. This instrument is made using accurately engineered elements in high-tech manufacturing unit. It is developed in varied technical specifications, providing the customers with several alternatives.
Features:
The strong outline makes it beneficial for decades
Integrated temperature regulator with outstanding sensor
Greatly requested for hassle safe functioning
Demands low maintenance
Muffle Furnace

The provided is muffle furnace is basically a laboratory model that is horizontally designed with electrical operation mode. This furnace is designed in rectangular shaped and possesses a metallic cabinet, wherein safe wires are equipped and are protected with Cerwool protection material. In addition, the metallic cabinet of our muffle furnace is coated for further safety. An integrated thermal fuse is furnished in the system to break and melt the circuit to thermal element for protection when operational temperature exceeds.

Energy Regulator

930 to 1150 degrees Celsius temperature range
AC single phase 230 volts
Digital or Pyrometer time proportional regulator
AC Main Power, 230 V, 50 Hz,

Optional Features:

Electronic Temperature regulator cum indicator
Blind Temperature regulator with ideal sensor
Strong State Fuse
On site confirmation
Digital Timer

The customers are suggested to contact our experts for Microprocessor Based Programmable Furnace.

Extra Muffle alongside Coil : To protect the heating components, heat safe ceramic fiber wool protection material is added alongside an additional elongated terminal to permit simple easy wiring.
Temp. Range

930 C

1200 C (1150 C working)

Size

Rating

Pyrometer

Digital

Rating

Pyrometer

Digital Temp.

9 x 4 x 4

1600

-

-

2000

-

-

10 x 5 x 5

2000

-

-

2500

-

-

12 x 6 x6

3000

-

-

3500

-

-

18x 9 x 9

6000

-

-

6500

-

-
Temp. Range

930 C

1200 C (1150 C working)

Size

Rating

Pyrometer

Digital

Rating

Pyrometer

Digital Temp.

9 x 4 x 4

1600

-

-

2000

-

-

10 x 5 x 5

2000

-

-

2500

-

-

12 x 6 x6

3000

-

-

3500

-

-

18x 9 x 9

6000

-

-

6500

-

-
Product Details:
| | |
| --- | --- |
| Power | 230 V, 50 Hz, AC Mains |
| Brand | Hmg (India) |
| Applications | Laboratory |
| Max Temperature ( C) | 930 degree Celsius / 1150 degree Celsisu (1200 degreeCelsius) |